Commercial Passenger Belts: FDC6400 Series
We use the finest components, including webbing, buckles and attachment hardware, to create world-class passenger belts. Our restraint systems meet TSO-C22f, TSO-C22g and TSO-C114 certification for belts and components. We take great pride in meeting or exceeding industry standards for safety and comfort.
Features and Benefits:
Lightest, most durable 3,000 lb. passenger belts available
Meets all existing and anticipated strength requirements
FAA, CAA and LBA approved for Commercial and Military Aircraft use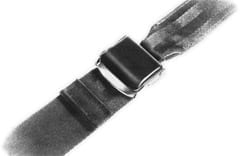 We offer TSO-C22f, TSO-C22g and TSO-C114 certified harness extension belts and components with innovative design and value-added benefits.