Wolfbend Double Wall Tube System
Davis Aircraft Products is the world leader in specifying, designing, fabricating FAR 25.863 compliant tubing systems. Davis Aircraft Products utilizes the patented Wolfbend™ technology to ensure the lightest and most robust designs for double and triple walled Aerospace, Marine and Automotive fluid conveyance. We have a complete library of tubes, fittings, and connectors to meet your coaxial tubing requirements .250 "thru 6.0".
Wolfbend™ double wall tube system is a lightweight solution that makes bending tube-within-a-tube practical and easy. The Wolfbend™ double wall tube system meets FAA/JAA requirements for shrouded fuel lines in passenger and cargo transports.  It also provides a wide variety of advantages, many of which are listed below: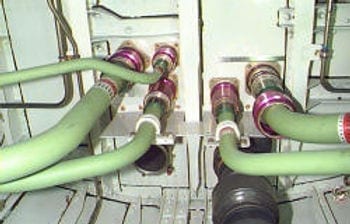 Advantages of Wolfbend Double Wall Tube Systems:
20% to 60% manufacturing cost savings
25% to 60% weight savings
30% to 80% savings on detail part count
Capable of smaller bends
Less on aircraft assembly
More damage tolerant
Fewer couplings required
Increased system reliability
Securely supports inner fuel line
Provides integral electrical bonding
Disadvantages of other (Non-Wolfbend) Systems:
Require more time consuming, difficult and costly assembly in aircraft.
Greater risk of damaging parts when assembling in tight or limited spaces.
Require customized detail part design and manufacture from outside suppliers.
Longer, more expensive design cycle time.